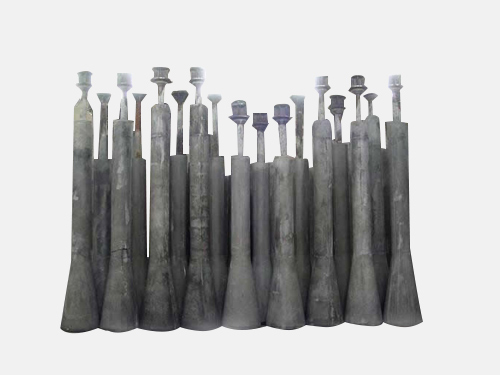 Hot metal desulfurization spray gun
The hot metal spray desulfurization is a hot metal treatment method in which a desulfurization spray gun is used to spray a powdery desulfurizing agent into molten iron by using an inert gas as a carrier to react with sulfur in the molten iron to achieve the purpose of desulfurization.
Hot metal dusting desulfurization is a discontinuous cyclic process. The spray gun works in high temperature molten iron at about 1400 °C and is used under atmospheric conditions. The frequent thermal shock often causes longitudinal cracks in the desulfurization spray gun body. Perforation or breakage greatly reduces the service life of the desulfurization spray gun.
The damage to the spray gun begins with the coverage of the refractory castable. The most common form of damage is the longitudinal crack burn-through of the refractory castable coating of the spray gun. To this end, our company has developed a high-performance refractory castable for the spray gun cover layer, effectively delaying the damage process of the spray gun and achieving the purpose of improving the service life of the spray gun.
In addition, the thermal stress resistance of the spray gun is usually related to the performance of the refractory material, but good structural matching can also play a large role. In order to further obtain the better effect of the overall thermal stress resistance of the spray gun, our company studied the influence of the internal geometry of the spray gun on the thermal stress of the spray gun. Through the improvement of the supporting steel structure form and the geometric arrangement of the steel pipe structure form, the developed spray gun is very successful and the service life is greatly improved.
Physical and chemical indicators:
Item




110℃

×

24h




1100

℃

×3h




1500

℃

×3h

Compressive strength

(

MPa)

110℃

×

24h




1100

℃

×3h




1500

℃

×3h

Line change rate after burning

(

%)